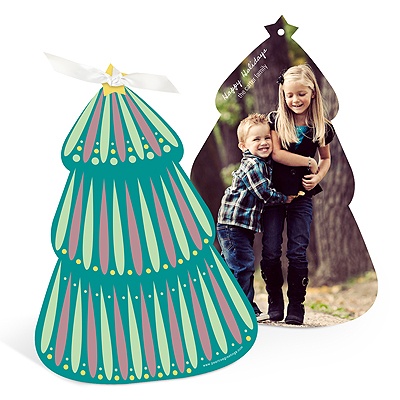 Sending cards to your family and friends during the Christmas holidays is a great way to let them know you're thinking about them, and it's also a good idea for keeping in touch with business partners, customers and prospects. Many people send store-bought cards, but if you really want to make a personal impression on someone, photo cards add a special touch. Your family, friends and business associates will all enjoy receiving a personalized card, and they'll remember it much longer than a generic card from a boxed card set.
Why? Because store-bought cards don't have a personal touch. You're limited to the same images and messages that everyone else is also buying on these preprinted cards. By creating your own holiday photo cards online, you can add a special photo and create your own message. You get to choose the color options, the fonts for outside and inside and you get to pick out just the right words to get across the message you want to say. Personalized Christmas cards Sending and receiving Christmas cards is fun, but it can be disappointing to get a holiday card from someone you haven't seen for awhile that just contains a regular boxed card with a signature.
You don't need to write a lengthy Christmas letter to make your Christmas cards more personal. As they say, a picture is worth a thousand words, so if you want to create personalized Christmas cards without a lot of effort, a great way to do it is with personalized photo cards.
These days it's incredibly easy to create unique photo Christmas cards online. You can choose a standard folding card or go a little wild with some of the fun new options, such as a Christmas card ornament, a Christmas card newsletter, or other cool Christmas cards. Some popular sites that offer photo cards are Shutterfly, CardStore.com, Pear Tree Greetings and others. Take a look at these Christmas card sites and you'll have so many choices that it may be hard to select a single one. That may be the most difficult part of the process because these sites then make it easy to personalize your cards with your own photos and message.
So this year, rather than buying a plain boxed card that will quickly end up in the trash, create a personalized photo card that you'll love sending and your recipients will love receiving.